For small business owners, consultants, or professionals, asking for online reviews is sometimes harder than asking for the sale — right?
This is where online review software comes in handy.  
The best software for getting online reviews will save you time in collecting reviews from a wide variety of platforms, improve your offline and online reputation. A reputation management platform should also make it easy for businesses with multiple locations to see and manage online reviews in one place. Start by choosing a software that will collect online reviews first, then expand and grow into reputation management.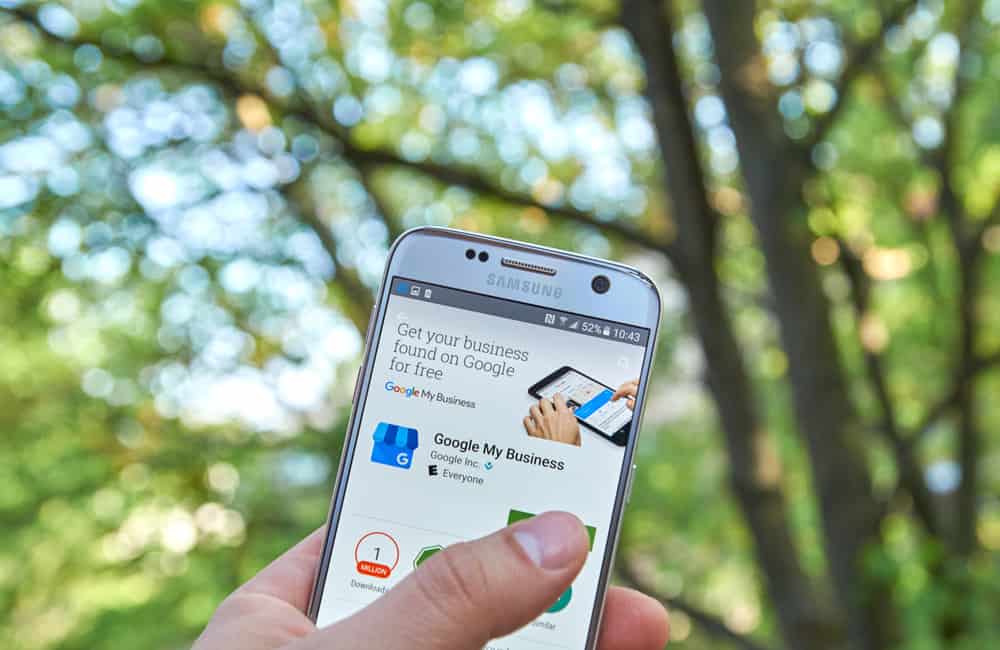 Recently, I've been in search of the best reputation management software for small businesses, consultants, or professionals that saves time and helps them get found and chosen online for the least amount of money.
And, to be honest, for a category that claims to help small business owners, they sure don't make it easy to find the right platform to capture a customer review, measure customer satisfaction or manage customer experience. 
In fact, I found it ironic that an industry that is supposed to help small business owners gather information about customer experience creates a terrible customer experience when a busy small business owner is faced with finding the right online review platform. 
Online Reviews = Online Reputation Management
First things first, online reviews fall into the category of "reputation management" so if you're searching for online review tools or online reputation management software, you might also try searching for reputation management software or review management software.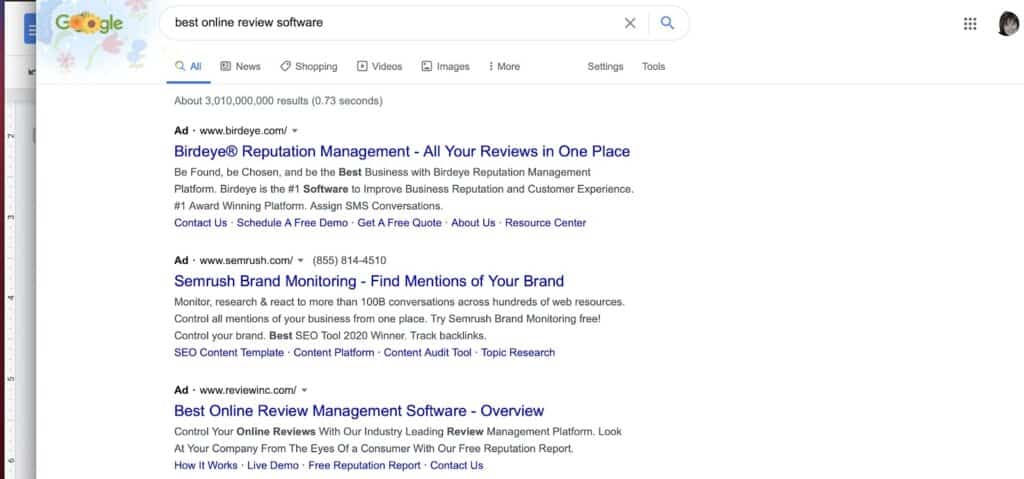 Here's where things can get confusing.  First, Google will assume that you're looking to buy some kind of platform. So you're going to see a lot of ads for everything from review platforms (for reputation management) to a marketing platform for brand management. 
You don't want anything having to do with a marketing platform or brand management right now — we are strictly interested in review software or a platform that helps you get and manage online reviews from customers.
What Features to Look for Before You Choose an Online Review Software
When you're looking for the best online reputation management software, you're going to become overwhelmed with features. To make things easy, I've narrowed it down to three specific elements of online reputation management that you want every review management software to do: 
Save time collecting online reviews and customer feedback
Automated requests & reminders
Request 1st-party & 3rd-party reviews
Scale from review features to reputation management
Platform for multi-location use
Notifications so you can respond to customer feedback quickly.
Manage reviews via mobile app
Improve your offline and online reputation
Monitor, listen, and respond from one dashboard
Social sharing of review content to Facebook, Twitter & Buffer
Offer survey feature to generate "Net Promoter Score" (likelihood of referring and recommending your business.)
Review Widget for your own website to display ratings & reviews
Improve local SEO and help people find and choose you
Keep your listing consistent across Google, Facebook, Yelp, etc.
Display your reviews as part of your search result and stand out from the pack.
Review Management Software Can Help You Get More Customers and Make More Money
Thinking you don't have time for online reputation management?  Think again. Getting customer reviews and making the effort to respond to negative reviews can actually increase sales without your beating the pavement for new customers. 
Look, negative feedback and negative reviews can impact your bottom line — just look at some of these stats:
If a business has more than nine current reviews, they earn 52% more revenue than the average. If a business has more than 25 current reviews, that increases to 108%. (Womply)
For every one-star increase that a business gets on Yelp, they see a 5-9% increase in revenue. (Harvard Business Review)
91% of 18-34-year-olds trust online reviews as much as personal recommendations, and 93% of consumers say that online reviews influenced their purchase decisions.
If you've ever received negative reviews, then you already know that the best way to get rid of that negative feedback online is to flood review sites with positive reviews.
Finding The Best Online Review Platforms is Confusing
Finding the right online reputation management software for your business isn't as easy as you'd think.  The online review management industry and review management software has become much more fragmented.  
As customer experience started playing a more important role in driving website traffic and sales, customer feedback started appearing all over the place. Soon review monitoring for customer satisfaction and being able to monitor reviews and respond to reviews became unwieldy and small businesses needed a management solution to capture any negative feedback.  
Well, if you think finding the best online review platforms for small business got easier, you'd be wrong. 
Recently, I started a search for the best online reputation management software and was overwhelmed by the choices.  The most frustrating thing was seeing how few online review management tools made it easy for small business owners to try them.
Many didn't list their prices and forced you into scheduling a demo.  
If they did list prices, the best prices were tied to an annual contract — so if you don't like the review management software you chose — you're stuck.
I've pulled together a mix of popular online reputation management tools that will help you gather and respond to customer feedback.
The key to effective online reputation management is finding the right tool for the job.  Most small businesses only want review monitoring and the ability to respond to reviews across the sties that matter the most. 
Check out These Online Review Management Tools
In my research of online reputation management tools I've discovered that some of the best review management platforms are relatively unknown.
So, I've decided to simplify things for you, sift through the choices and recommend what I think are the best tools to help you get and manage online reviews and customer feedback. I've purposely selected tools that aren't the best known, but have just the right number of features to help you generate more online reviews.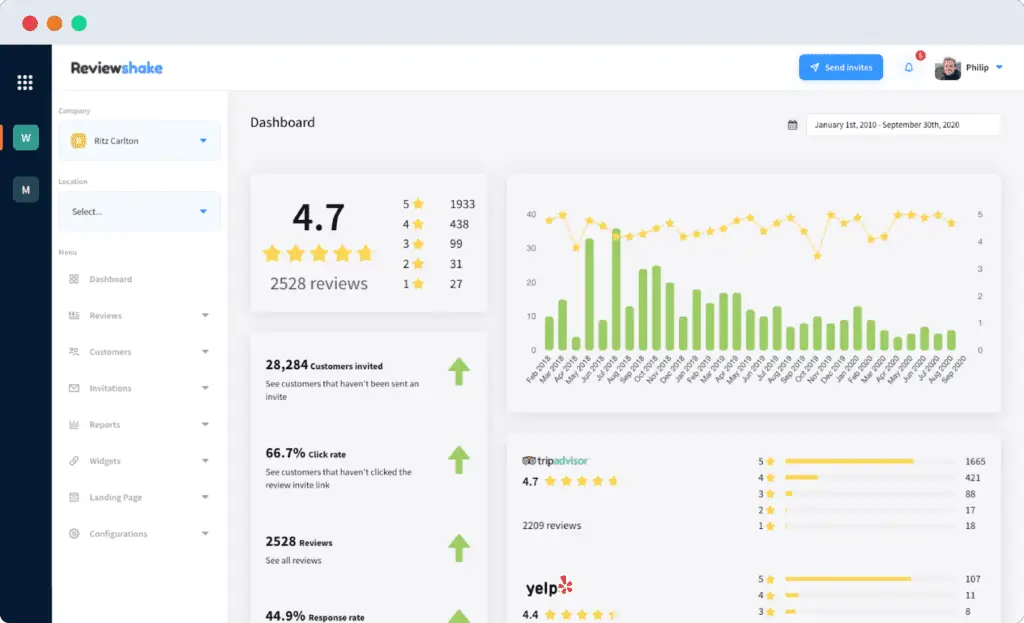 Founded in 2018, ReviewShake is a relatively new review management tool. You could say that they are still a small business themselves.  They espouse those entrepreneurial spirit that you probably share.
So, if you're the kind of person who chooses your tools based on owners you resonate with. This is one you should definitely consider. 
In my research it's the ONE tool I've found that unabashedly serves and supports small business. 
While some folks complain about the available features of the basic plan, I honestly think it's just right if you're starting your online reputation journey. 
Ideal for:
Small businesses who want to focus on collecting and responding to reviews.
Pros
No set-up fees and ability to go month to month
Simple platform to gather and monitor reviews.
Sends notification emails so you can respond quickly. 
Ability to white label review management for consultants and agencies
Cons
ReviewShake is a relatively new platform. 
Basic package doesn't offer analytics or sentiment analysis
Some customers would like more options for personalization
Pricing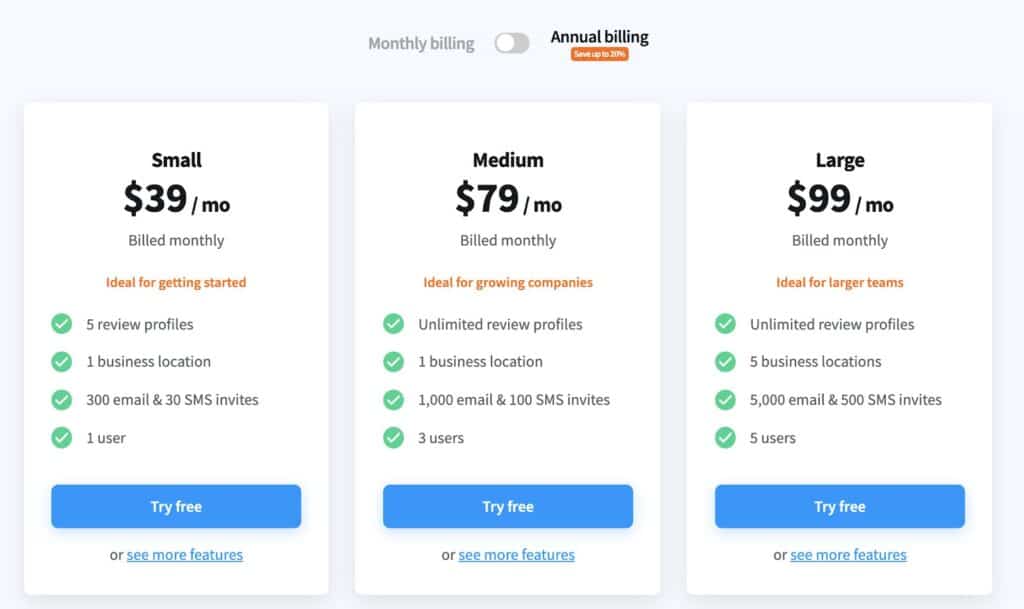 Reviews.io was founded by Callum McKeefery with his wife Nikki Albano in their kitchen in 2010. Their goal was to create an online reputation and review management platform that gives small business owners a great review management solution without complicated pricing or long-term contracts. 

Ideal for:
Businesses that are very active on social media and use social media for review generation. 
Pros
Offers a free trial
Social media marketing features that allows you to publish great reviews directly to social networks.
Allows customers to post video reviews.
Cons
Clients would like to personalize their profile pages.
Currently doesn't offer LinkedIn integration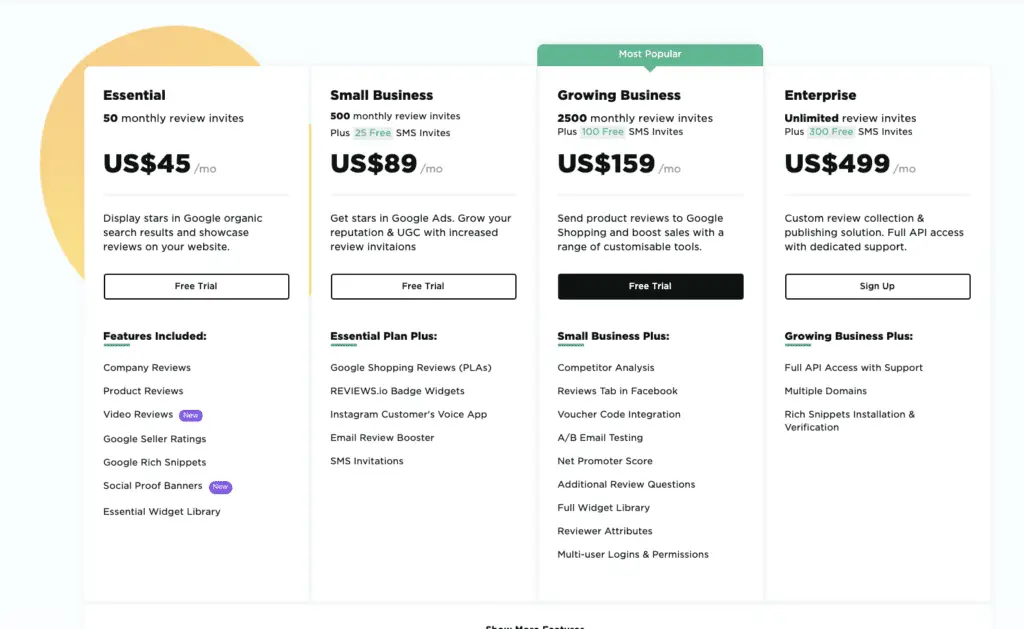 I started this article by talking about statistics that show that good reviews actually increase sales and profits for your business. 
NiceJob is one review generation platform that leads with the idea that you can increase sales by collecting reviews and structures their software to achieve that goal.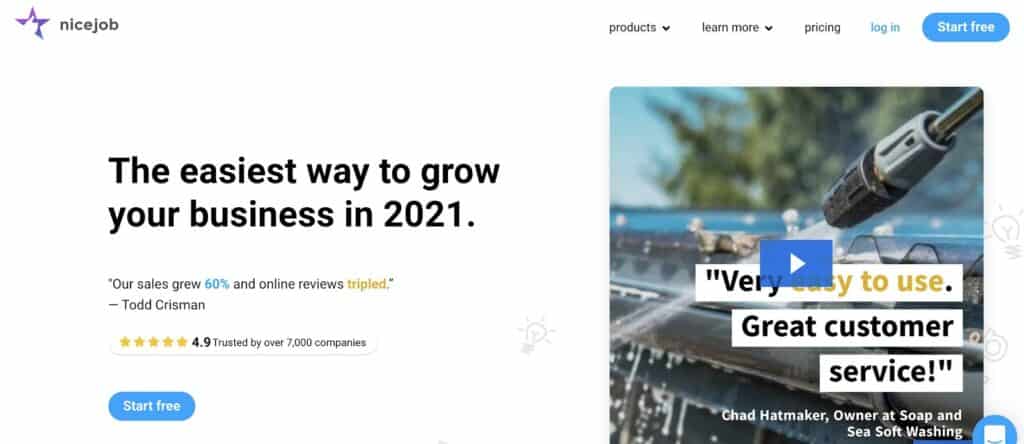 Wait What? A Website that Converts Visitors to Customers or it's FREE?
The purpose of any website is to get and convert visitors to customers. But you don't see anyone promising that result — except for NiceJob.  Yes.  They offer a simple website and they promise that you'll convert 10% more customers from your website — or it' FREE.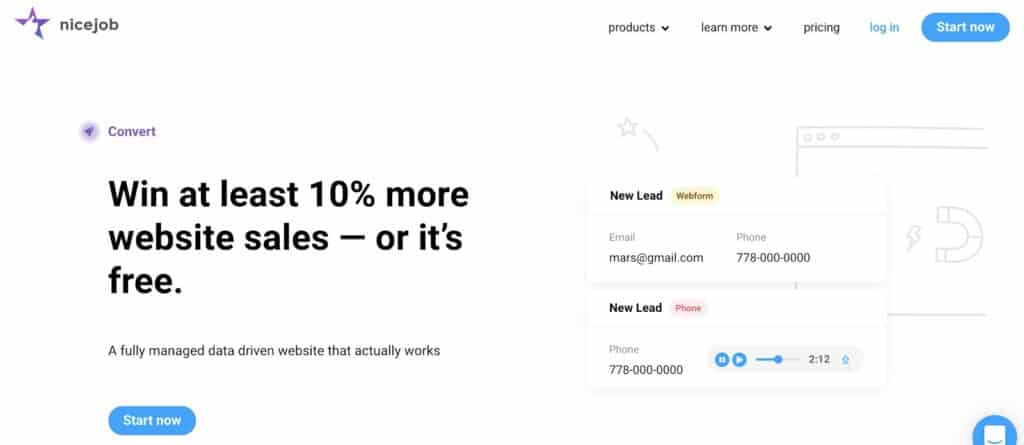 Ideal for:
Brand new businesses and startups who don't have a website
Pros
Offers a free trial
Ideal choice for brand new local businesses.
Will build, manage (and guarantee) a website that converts visitors to customers
Cons
Could be overkill if you already have a website.
Might have difficulty integrating with a CRM

ReviewPush is another relatively new online reputation platform. ReviewPush wants to help businesses see everything regarding their company so that they can not only capture reviews online but also control the narrative around their company.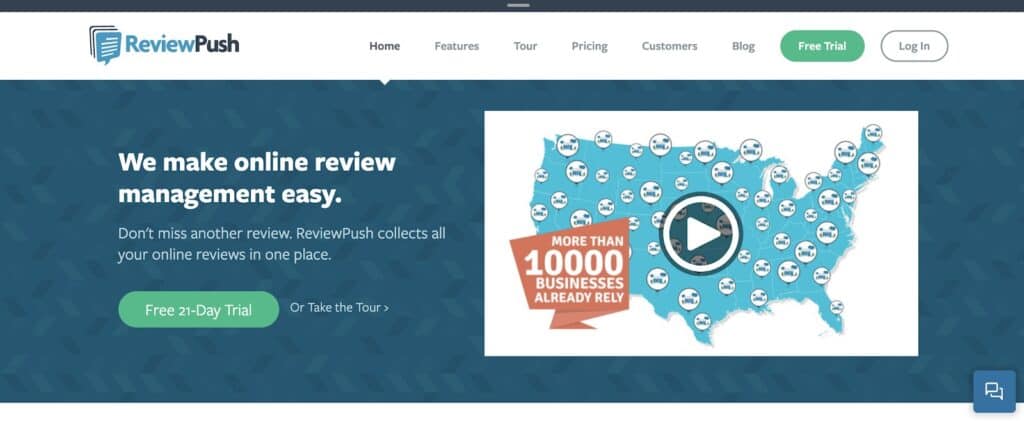 Pros
Offers email alerts so that you can respond quickly
Focused multi location businesses
Cons
You have to create campaigns to generate reviews online.
You may have to do some work-arounds to get your reviews to publish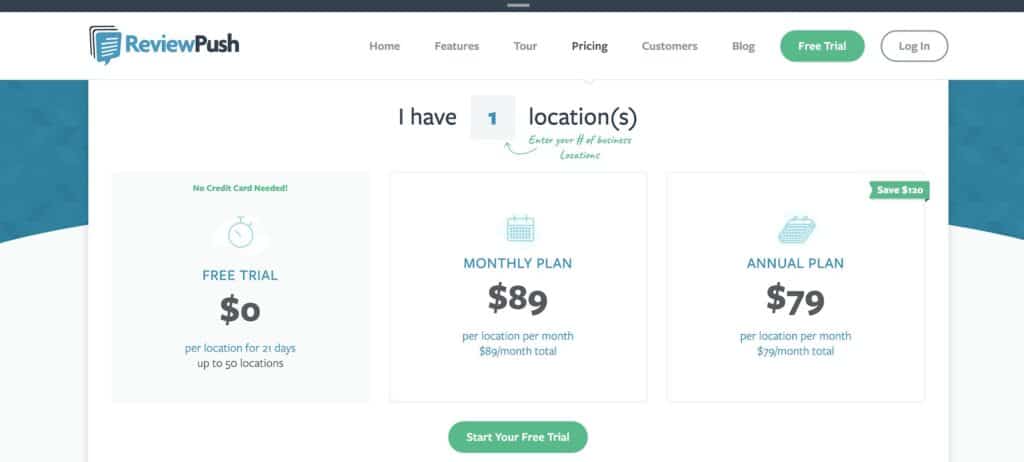 Grade.us is one of the most popular review management tools in the industry. This is a tool that any small business can use to gather customer feedback across the sites that matter most.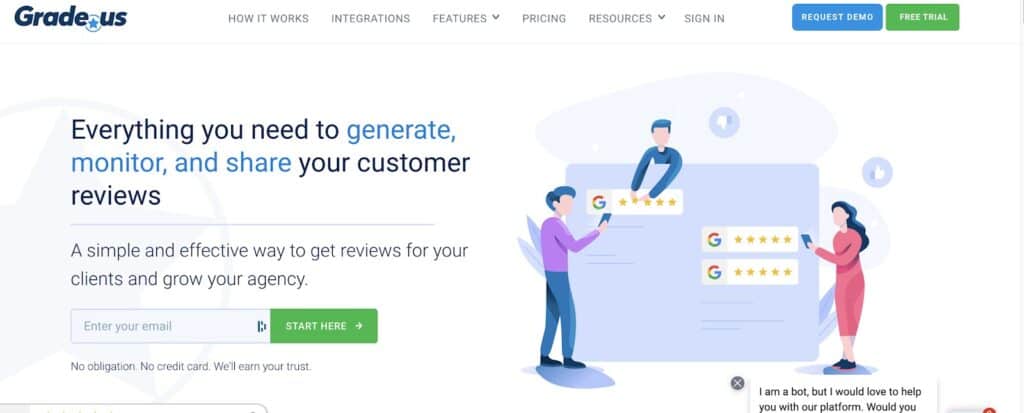 Ideal for:
Marketing consultants, firms and agencies who want to re-sell online reputation management.
Pros
Offers a free trial
Integrates with the most popular marketing platforms
Easy-to-use email and text messaging requests make it easy for customers to leave online reviews.
White label review management options for marketing consultants and agencies.
Reviews post automatically on websites.
Cons
Doesn't have mobile app option
Solopreneurs say the price is too high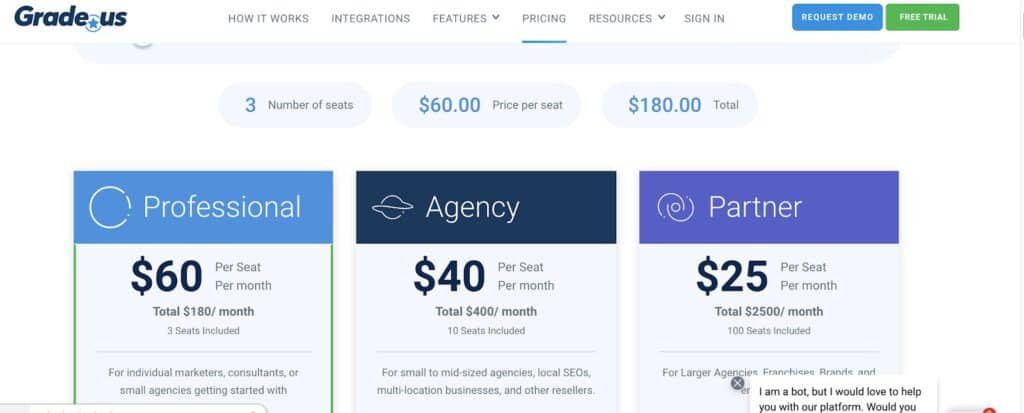 GetMoreReviews.com will help you optimize your review management process with a 5-star rating system, auto social posting, and negative feedback blocking capability. With Get More Reviews, you'll be able to turn your happiest customers into 5 star reviews online and generate real, authentic reviews on multiple online review sites including Google, and Facebook.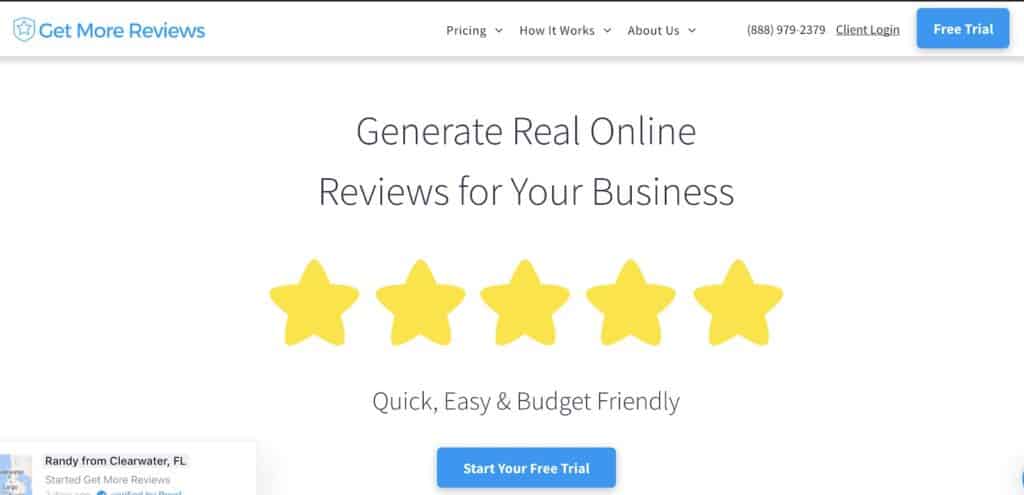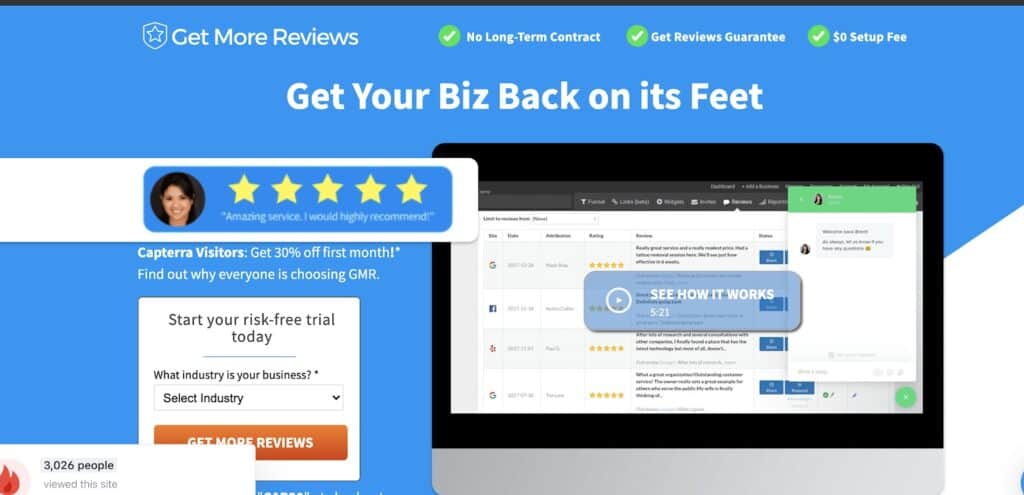 Ideal for:
Businesses that have never used a customer review platform before.
Pros
Easy to handle bad reviews offline before they go public
Offers a free trial and no long-term contracts
Send email reminders to customers to get more reviews
Automatically share your best reviews.
Cons
Some clients complain about having to enter each customer manually.
Existing customers feel like you need to have more volume to make it worthwhile.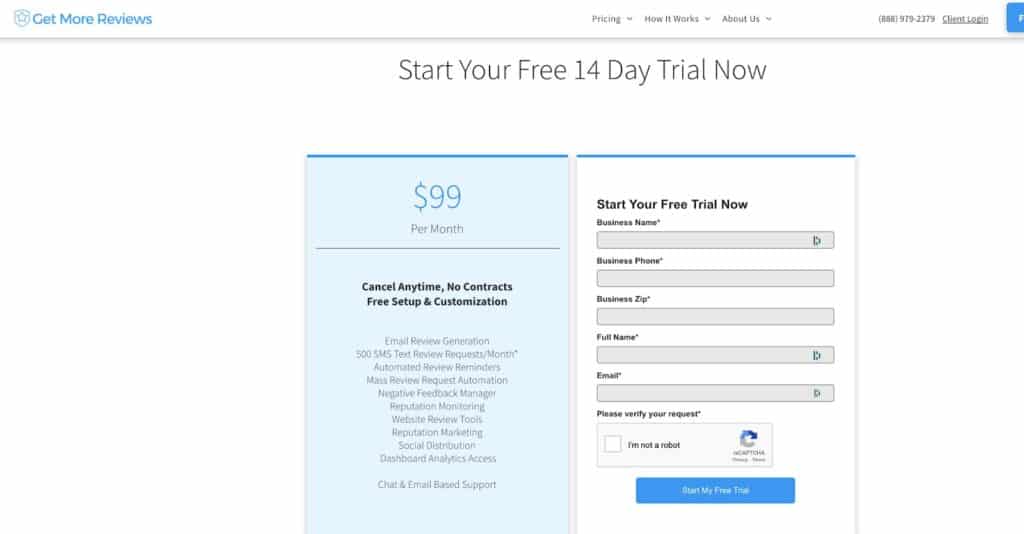 Here's a more detailed look at the pricing options.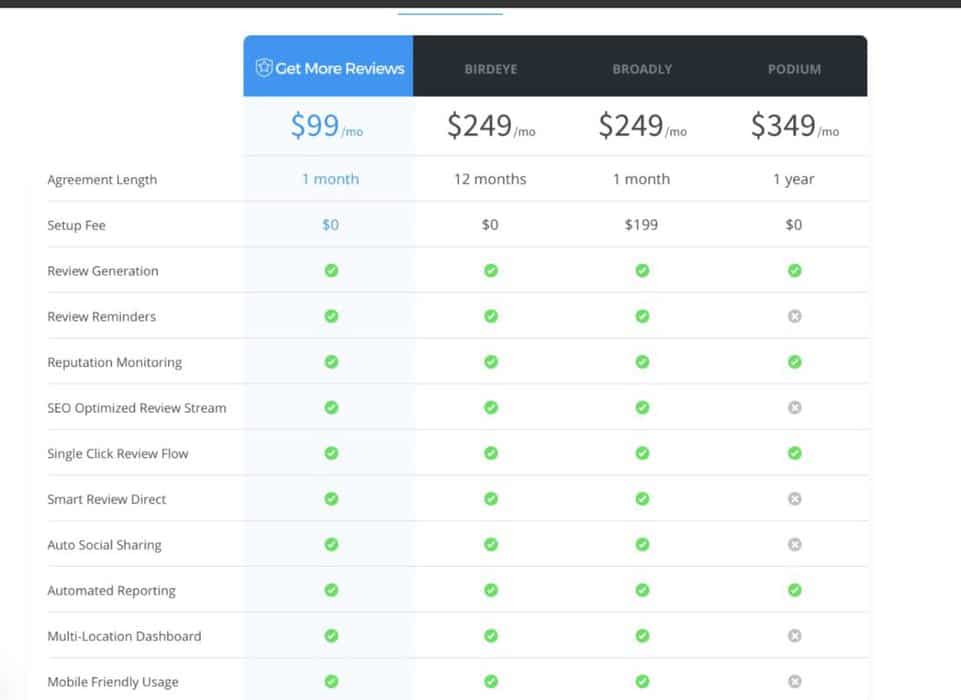 Formerly known as "Give 5 Stars"  GatherUp didn't have as many customer reviews as some of the other platforms I've featured here. 
I've included it because the reviews they do have talk about having everything you need at an affordable price.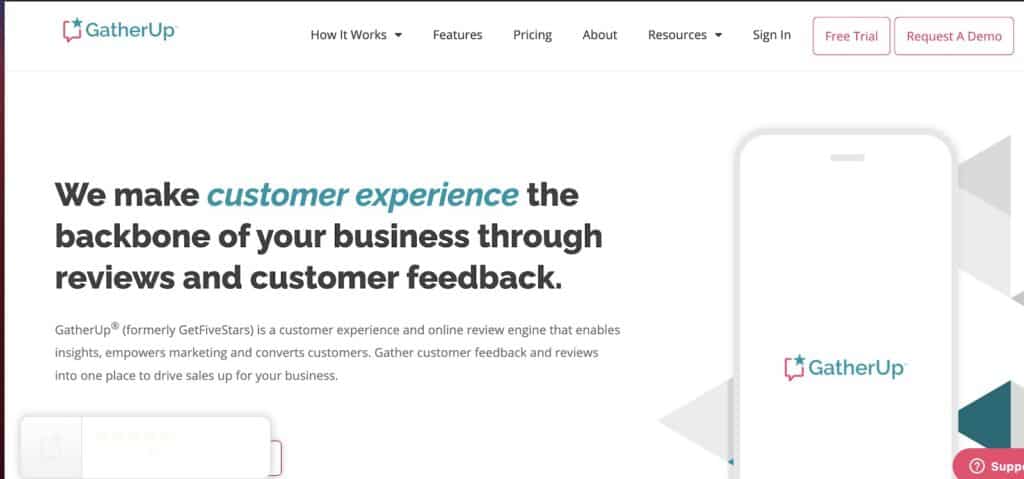 Ideal for:
B2B businesses that want to collect net promoter scores
SEO agencies who serve small business clients
Pros
Offers net promoter score
Provides good analytics and insights
Cons
Offers a lot of customizable features that make it a bit difficult to use.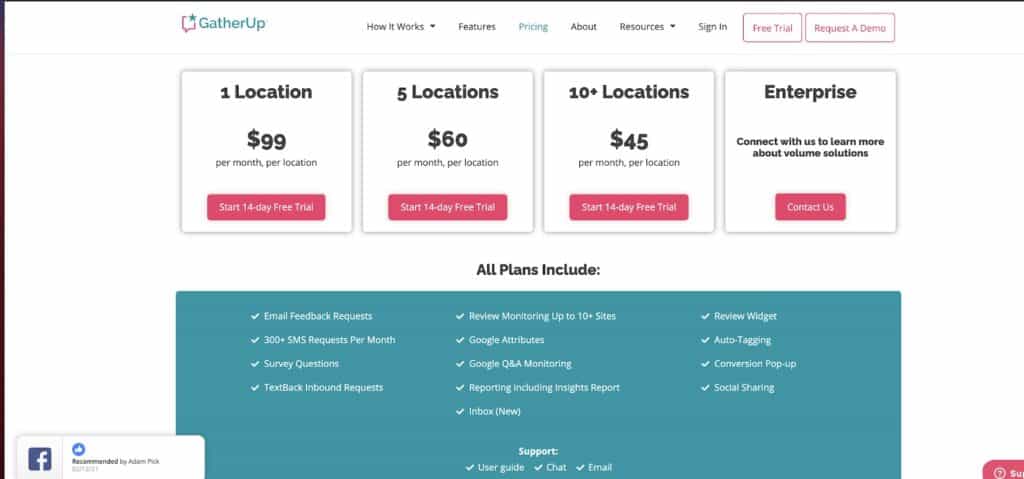 In my research of customer review software, I was surprised to find that most of the brands I was familiar with had removed pricing from their websites and opted to force you into a demo in order to get a price.
Personally, I am not a fan of this strategy.  
And yet, I think I owe you a list of customer review software that includes a few popular brands — so here they are. 
ReviewTrackers has been one of my favorite customer review platforms for many years.  It's been rated a best review software and customer experience software in 2020.
It was accessible to small businesses, easy to use and affordable.  Since their launch in 2012, ReviewTrackers has grown quite a bit and expanded their customer review capabilities.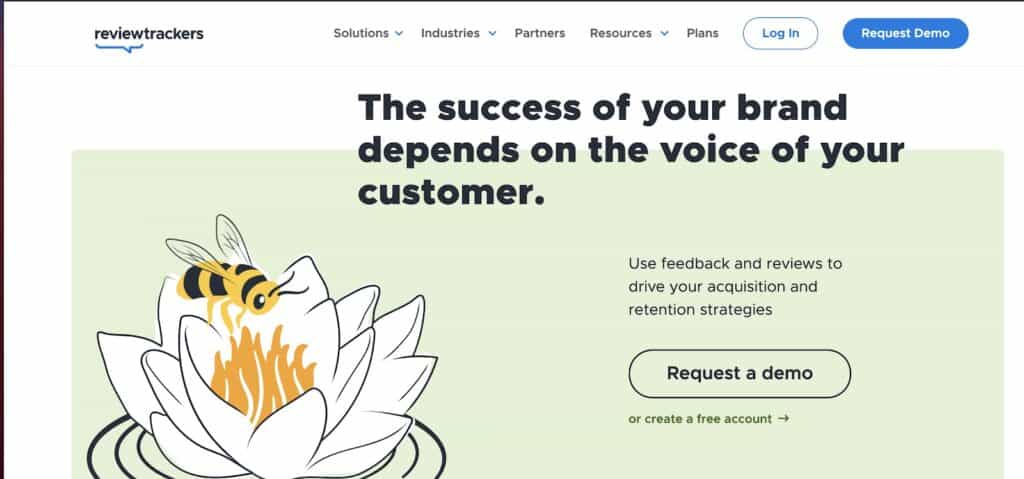 Ideal for:
Restaurants, businesses with multiple locations
Pros
Proven customer review software.
Available on mobile devices.
Offers extensive in-person and webinar training options.
Cons
Don't list pricing on their site and force you into a demo
Not being able to directly respond to some sources without leaving ReviewTrackers 
Not all review status change automatically when responded outside of ReviewTrackers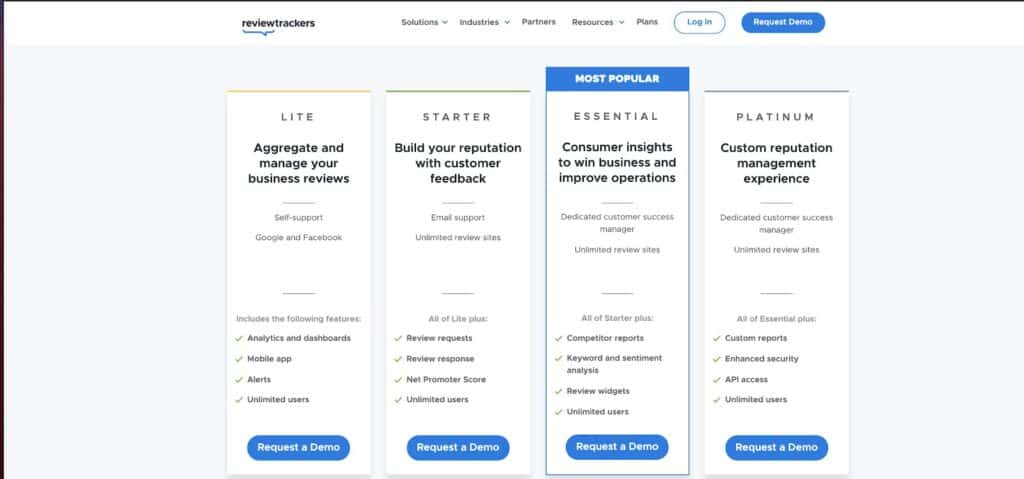 When you research customer review software, you'll find that BirdEye is the brand every software compares themselves to.
After receiving funding, they've grown and really built their brand as the standard.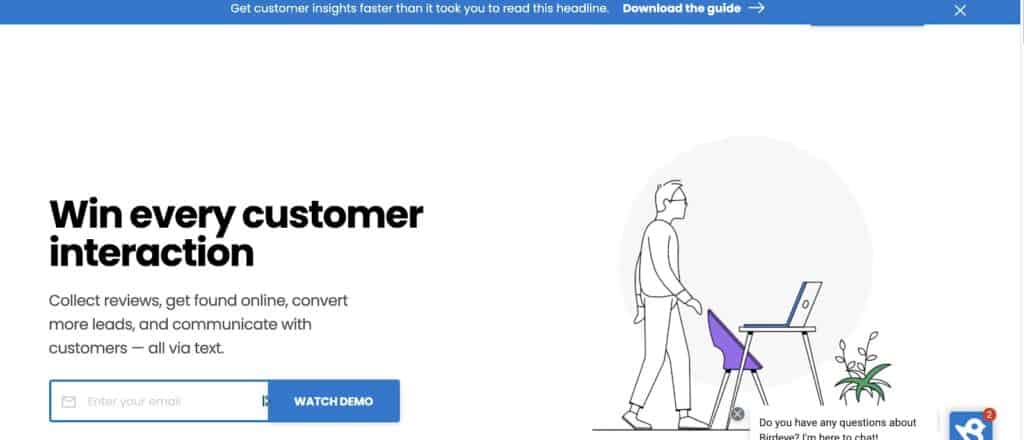 Like many of today's customer review platforms, BirdEye offers a TON of features to choose from: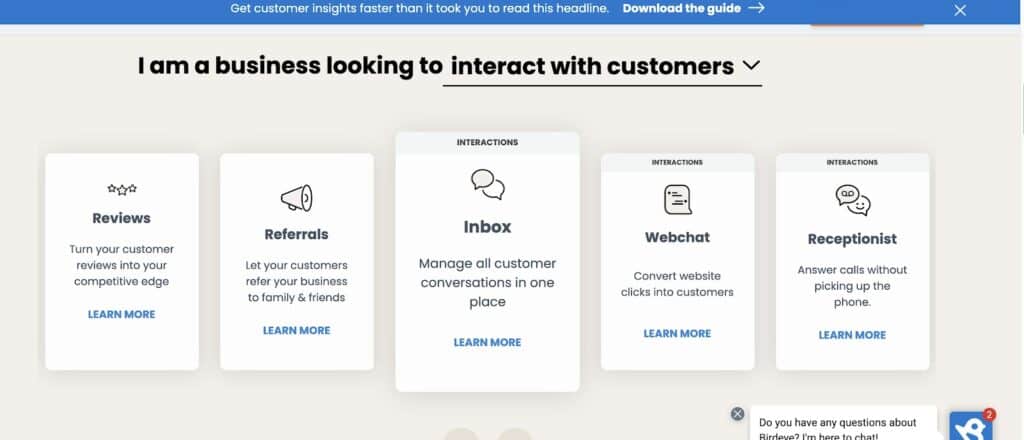 Also, like many customer review platforms, they force you into registering and entering your contact information in order to get access to pricing.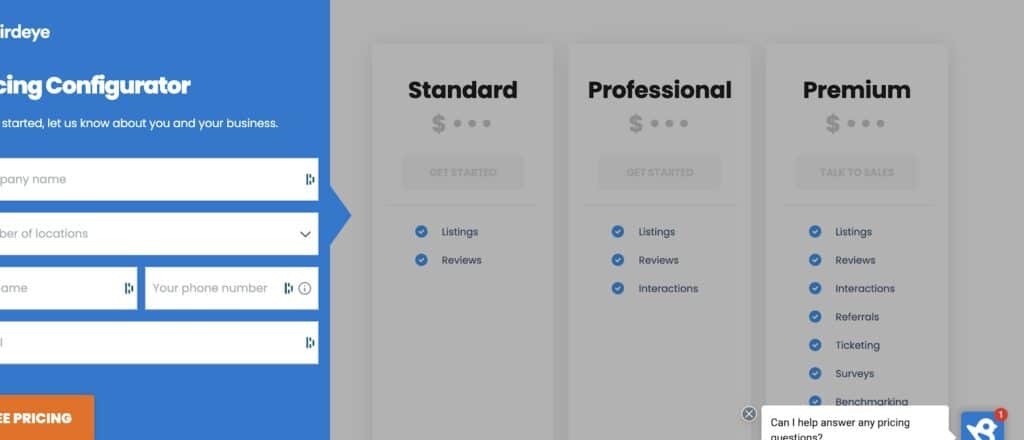 And once you've taken the time to enter your contact information — you're rewarded with seeing a pricing table.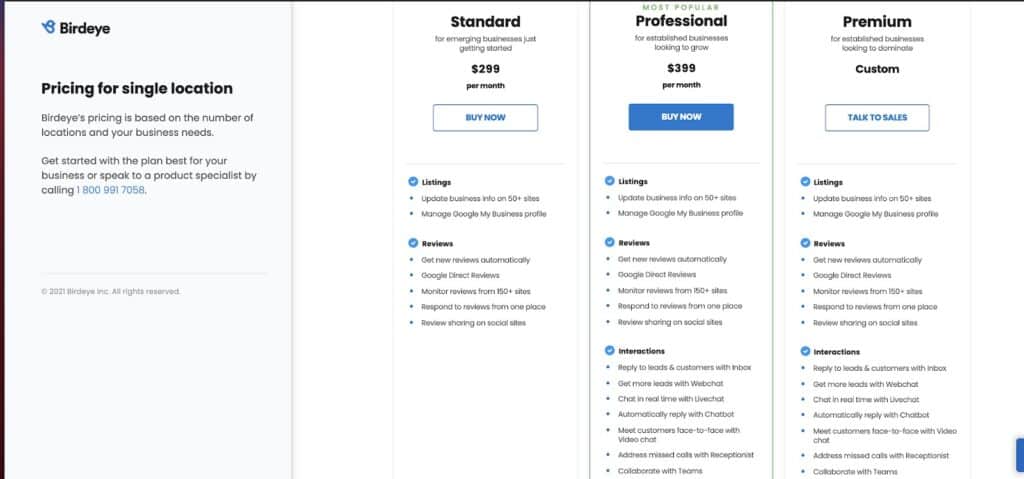 And, if you're like me, this pricing table will knock you off your feet – and not in a good way.
$300 per month is a lot to ask for a small business – especially one that's not used a customer feedback tool before.
One thing I've noticed in my research is how many businesses have switched from BirdEye to other platforms. This makes me think that small businesses are not using all the features offered at the price or other platforms offer similar features for a lower price.
Ideal for:
Mid-sized, multi-location businesses who need to manage reviews on hundreds of sites. 
Pros
Offers reviews on more than 200 sites.
Fully integrated review software- loaded with features
Easy to scale and grow into
Cons
Price is too high for solopreneurs and small businesses
Why Use a Customer Review Management Software
Look, customer reviews matter.  Research has shown that a 4 or 5 star rating from customers can actually increase your sales. 
If that isn't a good enough reason to start using a review management tool, then I'm not sure what is.
If you've been surprised by a single one-star review, and wondered how to get rid of it, the answer is simple — drown it in positive 5-star reviews!
Not only that, but a consistent flood of recent reviews helps you with online reputation management which is more important than ever.
Review management software can make getting reviews easy and using those reviews as a part of your marketing strategy.
If the prices of these review management tools seems prohibitively high, then think about how much each new customer is worth to you.  Often, a single new customer garnered from great reviews will more than pay for the price of the software.