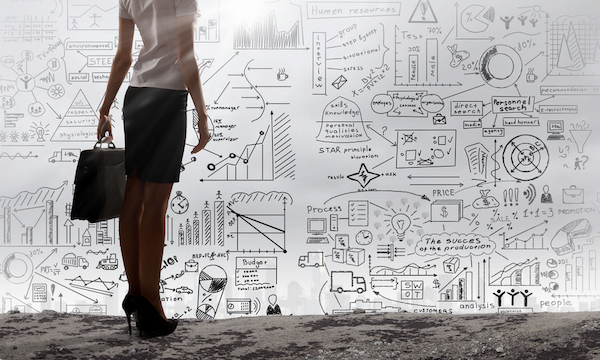 Every business makes money. But truly successful and impactful businesses are in the market for more than just cash. They're in it for a mission.
A powerful mission can provide major benefits for your small business regardless of industry. However, it can be tough for startup entrepreneurs or any new business owners to create a powerful mission for their small businesses. Today, let's break down what a mission is, why you should create one for your business, and explore some important quotes that may guide you to the right mission for your brand.
What is a Mission?
In a nutshell, a business mission is its reason for existing beyond making money. For example, Microsoft's mission statement as of 2022 is "to empower every person in every organization on the planet to achieve more". This mission statement has been updated multiple times in the past.
Regardless, it breaks down what Microsoft aims to achieve on a global scale aside from making a profit. Your small business needs to have a mission for several important reasons and benefits.
The Purpose of a Mission for Businesses
A business's mission provides it with direction. As your business grows and becomes successful, you'll need to direct the business by:
Deciding what to produce or provide
Deciding who to hire
Deciding how your company should be represented in marketing and brand materials
And more
It'll be much easier to answer those questions – and to follow your original dream – if you have a mission outlined and developed beforehand.
The right mission will also help you attract the perfect team members to help your business grow. As Ann McFerran, the CEO of Glamnetic, states, "the best way to grow in skill really quickly… is to get people much better than you and convince them to join the company."
The right team members can have a major impact on your business and its success, and the right mission will draw those people to your brand. "Growing businesses are led by growing people, people who embrace change", says Pixie Lane co-founder Lori Price.
Other successful business leaders echo this truth: that getting the right mission down early will help you bring the right people to your company early as well. "I want to hear from everyone before I do," says chief marketing officer for Nailboo Amanda E. Johnson. Surround yourself with the right people and your business is much more likely to thrive.
In a broader sense, your mission will help you identify and connect with your target audience. Jaymee Messler, the CEO of The Gaming Society, backs up this assertion: "People love to feel connected with the businesses they support". Having an easily accessible mission statement lets people determine whether your brand is right for their morals or values.
This is even more important when you take customer retention into account. As Hush's CEO Ubaldo Perez states, once you know who might be pleased with what your business provides, "you understand who is most likely going to continue to purchase your things."
Key Elements of Successful Mission Statement
As you can see, having a mission for your business is of crucial importance. But for your mission to be powerful and successful, it needs several key elements.
It's the Right Length.
For starters, your business mission should only be a few sentences long at maximum. It can't be too long or people won't read it in full. A long mission tends to push people away from your brand rather than draw them in.
As Founder and CEO of Bite Lindsay McCormick states, "Many people have shorter attention spans these days due to social media". This is as applicable to your mission or company "about us" page as it is to future blog posts or marketing materials you create.
It Speaks to Long-Term Goals.
Your mission should also speak to long-term goals rather than short-term profit margins or objectives. It's okay to be a little airy or abstract when writing your business mission. People expect mission statements to be a bit vague since every business plan needs to be flexible and adapt over time!
It's Not Limiting.
By the same token, a business mission or mission statement should not be limited in any way. That's because you may need to change your mission in the future as your business goals shift and as the market shifts as well.
Avoid specific language when writing your mission. This is beneficial as well since it will prevent anyone from claiming that your company lied about its goals or mission in the past if you change it later down the road.
It's Flexible.
As noted, your business mission must be flexible enough that you can adapt or change it with the times. Remember Microsoft's mission statement? Originally, it was much simpler: "A computer on every desk and in every home." This mission changed as Microsoft expanded into new markets and its overall goals evolved with its growing abilities.
It's Inspiring.
Last but not least, a business mission should be inspiring to everyone who reads it. That includes both your employees and your customers. Therefore, try to write a mission with dramatic, inspiring language without being too over-the-top.
How to Discover the Right Mission for Your Small Business
But how can you discover or create the perfect mission statement for your small business? In many cases, you can develop a great mission by asking yourself a few simple questions.
Think of Why You're Founding a Company.
Understanding why you specifically want to run a company is crucial to determining how the company will perform in the future – and what you'll make or do. As Cleared's Co-founder, Ryan Rockefeller asks, "why would you want to be a manager? Why do you want to relinquish control of your own performance and tie it to someone else's?"
Well, answer that question! Why do you want to run a company? Why do you want control over a business? If you know the answer to this, you might gain some insight into why you want to change the world through business as well.
What Speaks to You?
Look inward and ask what speaks to you in terms of causes, goals, or ideals. These may not perfectly match your industry or business type, but they might! If they do, you can sometimes leverage those ideals or goals and blend them with your mission.
For example, Bill Gates was always passionate about technology and how it could improve the lives of people. He implemented that idealism into his Microsoft mission statements over the years. That core is still present even in the new, 2022 version of the Microsoft mission.
How Do You Want to Change the World?
Lastly, ask yourself how you want to change the world. Your business, if it is successful, will have a concrete impact on the lives of many people. When you ask yourself how you want to change their lives, you'll get a better idea of:
How you want to run your business
How you want people to perceive your business
What ideas or brands you want your business to be associated with
And more
Even if these questions are tough to answer, it's important that you do so before getting to work on your mission. "There is always a solution," as CEO and founder of Embroker Matt Miller points out, and that's "as true today as ever".
Conclusion
Ultimately, creating a powerful mission for your small business is one of the most important things you can do as a founder or CEO. The right mission will set your business up for success, draw top talent to your brand, and help customers connect with you like never before. Keep this guide in mind when drafting your mission and you'll be sure to get it right!