Entrepreneurs face many challenges when starting a business. From writing a business plan to finding investors, figuring out a product or service line, hiring employees, building a website, and more, business owners have their hands full.
So it's not surprising that many business owners don't spend much time choosing color schemes and fonts when branding their business.
But, this turns out to be a mistake because there is more to colors and fonts than meets the eye.
A well-designed company logo creates value.
Your logo is the ubiquitous representative of your business. It won't just appear on your website or product packaging. Your logo can be anywhere – on storefront signage, branded social content, billboard ad, business report, and business cards.
Studies have shown that the simplicity or complexity of a logo can influence investor funding decisions and brand equity. And significantly, regardless of whether you follow logo design trends, your logo impacts customer psychology and brand performance.
But how do you pick the perfect logo for your business? And should your logo be descriptive or nondescriptive?
Descriptive vs. nondescriptive logos
A recent study analyzed 597 logos to determine whether descriptive logos were better than nondescriptive logos. The study concluded that overall, descriptive logos had a more significant positive effect on sales than nondescriptive logos. But, the results weren't absolute, and there are notable reasons why you might pick one style over another.
Let's look at the critical results from the study:
1. About 60% of companies used a nondescriptive logo, while 40% used a descriptive logo
A descriptive logo uses either (or both) text and visual design elements to clearly (some might say, literally) communicate a type of product or service a company is marketing. Think of the Burger King or Dominos Pizza logos. Both are popular and timeless logo designs that have mass appeal.

Nondescriptive logos do not indicate the type of product or service these brands sell. Think McDonald's golden arches or Adidas' three stripes – if not for their global popularity, their logos don't tell you anything about those companies' products.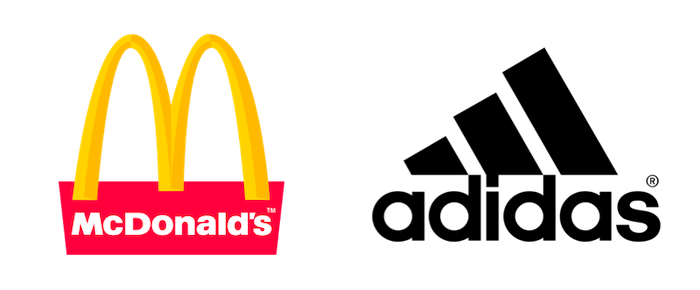 2. Consumers generally prefer descriptive logos
In one of the group experiments, the researchers randomly assigned participants to one of two groups.
One group was shown a descriptive logo of a sushi restaurant, while the other group was shown a nondescriptive logo of the same restaurant. Each logo had a similar short description of the restaurant.
After reading the description of the restaurant and after viewing their assigned logos, the participants were asked through a Likert scale scoring system about the brand's authenticity and how favorably they viewed the restaurant.
After comparing the responses from the two groups, the researchers found that participants in the descriptive logo group found the brand more authentic and liked it more than participants in the nondescriptive logo group.
The researchers further revealed that consumers also found it easier to visually process descriptive logos and understand the brand's product or service.
According to the researchers, companies with descriptive logos:
Appeared more authentic to customers
favorably impacted how customers viewed the brand
increased consumers' willingness to buy
Increased sales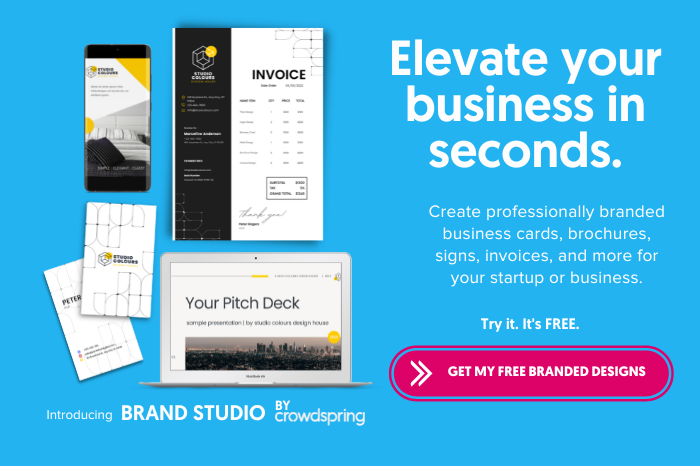 3. A descriptive logo is more likely to improve brand performance
In another study, the researchers tried to discover the effect of a descriptive vs. nondescriptive logo on a company's net sales.
First, the team acquired financial information (such as net sales, advertising and R&D spending, and total assets) for 423 B2C (business-to-consumer) brands.
They then gathered the participating companies' logos and asked research assistants — who were unaware of the purpose of the study — to identify which logos were descriptive or nondescriptive. Research assistants also assigned 13 other design characteristics (such as symmetry, shape, and color) as control variables.
Using regression analysis, researchers explored the effect a descriptive or nondescriptive logo has on a company's net sales.
The results showed that a descriptive logo has a "greater positive effect on sales than a nondescriptive one."
The researchers tested their findings on the logos of 174 early-stage startups by providing logos and product descriptions to 2,630 individuals. They again found that descriptive logos were more often associated with a higher willingness to buy.
4. The power of a descriptive logo is not absolute
Not every brand benefits from a descriptive logo.
The research team found this by comparing the effects of a descriptive logo for brands that are familiar vs. unfamiliar to customers.
They observed that although a descriptive logo positively affected brand equity for both familiar and unfamiliar brands, "the magnitude of this positive effect was much smaller for the familiar brands."
This phenomenon, the study explains, occurs because customers already familiar with a brand already know a lot about it. Thus, they may be less likely to be influenced by the logo design. Instead, their buying decisions are influenced by customer experience or the products or services.
The researchers likewise found that descriptive logos had "a negative effect on brands that market products or services associated with sad or unpleasant things, like palm oil, funeral homes, and bug repellents." Such descriptive logos are negatively associated with deforestation, death, and bug bites.
5. Use at least one descriptive element in your logo
The researchers recommend that business owners include at least "one textual and/or visual design element that is indicative of the type of product or service your company offers."
For instance, a coffee shop owner should consider a logo design that includes a coffee cup or iconography to represent hot steam rising from a cup.
Or, if a business owner wants to open a bookstore, try a logo design that uses the symbol of a book or a stack of books (even if it's somewhat abstract).
But this finding does come with a caveat.
Suppose your company is in an industry associated with negative concepts (see the discussion about palm oil and bug repellents above). In that case, a nondescriptive logo is probably a better option for you.
Nondescriptive logos are also better for companies with several, often unrelated, business segments. Amazon, Procter & Gamble, and the Walt Disney Company are good examples.
These conglomerates often have different products or services under one umbrella. So, a descriptive approach may render their logos to appear visually crowded, unappealing, and confusing.
Moreover, brands that do not want to be solely associated with a specific product should avoid descriptive logos.
For example, a beauty and skincare company that offers more than one formula might have a better chance of using a classic wordmark logo.
And if you're rebranding, consider how your current branding reflects your products and services. Dunkin' Donuts, for example, removed the word "Donuts" from its descriptive logo because it wanted to diversify its products and become more associated with other (healthier) product alternatives, such as bagels.
6. A descriptive logo is not a branding home run
The researchers were careful to note that they are
not contending that a descriptive logo guarantees the successful launch of a brand, or that the logo is the most important brand element to consider.
Among other things, the study did not assess how descriptiveness affects brands with diverse products and services.
And it didn't consider how originally descriptive logos evolved through the years into less descriptive or non-descriptive logos.
But the study did emphasize the importance for marketers, entrepreneurs, and business owners to be more strategic in their branding decisions. Weak branding can be a costly mistake.