A business owner went viral on Tuesday for his brutal response to a one-star review.
An anonymous poster under the username u/MRairden shared a screenshot of the review to Reddit's "Facepalm" forum, writing: "Oh, this is what I come to the internet for." The post has garnered more than 18,000 upvotes and over 100 comments from Redditors, many of whom said the "harsh" response was hilarious.
Speaking to Hubspot, customer marketing manager Max Bailey encouraged business owners to respond to negative reviews, stating that customers are "writing to be heard."
"For negative reviews, pay attention to their feedback and go beyond saying 'sorry' by explaining what can and will be done to solve their issues," Bailey said.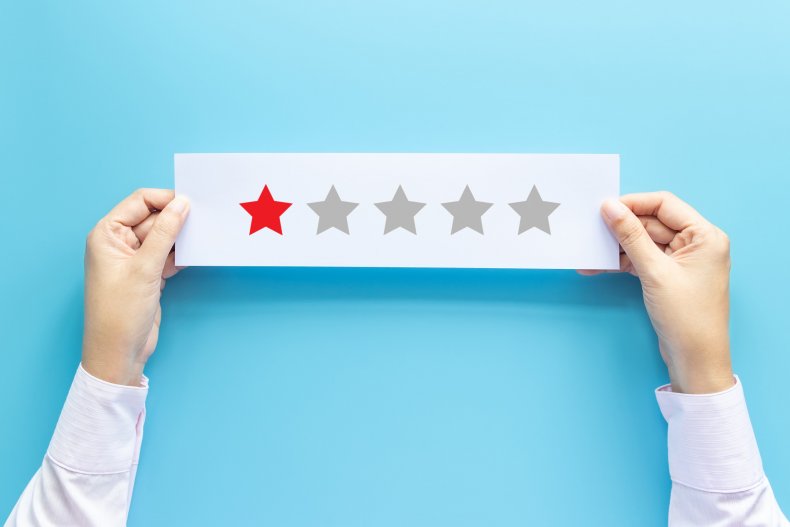 Rich Ball, a brand marketing manager, added: "We have seen that the best way to handle negative reviews is by taking a step back and putting yourself in the customer's shoes. Do some research into the problem they're having, and then reply with a personal response (make sure to apologize and offer a solution)."
Ball also advised business owners to reply "publicly to negative reviews," as this could bolster the business's reputation or "encourage the reviewer to change their reviews."
The business owner featured in u/MRairden's now-viral post did respond to his negative reviewer publicly; however, he didn't offer an apology or a solution.
According to the screenshot, a woman named Tiffany gave Garrett's Garage, an auto repair shop, a one-star Google review on April 23.
"HORRID!" Tiffany exclaimed. "[The owner] didn't show up."
In response, the owner, presumably Garrett, confronted Tiffany and gave her a review of his own.
"Well Tiffany, I did in fact show up and did in fact diagnose your Dodge Caravan with your husband beside me. It needs a starter," he wrote.
"You knew I was there because you [texted] me and told me how you were unhappy with your husband and how I was 'sexy af.' So I proceeded to be a good person and showed your husband the text messages. And now [you're] mad so you left me a one-star review," he continued.
"Well Tiffany, I'm giving you a 1-star review on being a wife. God Bless!!"
While some commenters questioned the post's legitimacy, others said they loved Garrett's "harsh" response.
"One-star review on being a wife, damn harsh!" wrote u/MissMabeliita
"Marvelous," said u/JadeHellbringer.
"Garrett from Garrett's garage is a savage. He's got my business," commented one Redditor.
Redditor u/WastedVamp added: "NO F**KING WAY IM DYING!"
Of course, Garrett's Garage wouldn't be the first business to receive a public, negative review.
On Tuesday, a TikToker revealed that Woods Rogers Attorneys At Law, the law firm representing Amber Heard in the current defamation trial between her and Johhny Depp, has received a barrage of one-star Google reviews, criticizing the team's trial performance.
In March, a separate TikToker shared that she got out of the lease on an apartment after leaving the management company a negative review on apartmentratings.com.
And in February, a woman posting in Reddit's "Am I The A**hole" forum said she blasted a dog grooming business on social media after they allegedly "stole" her dog.