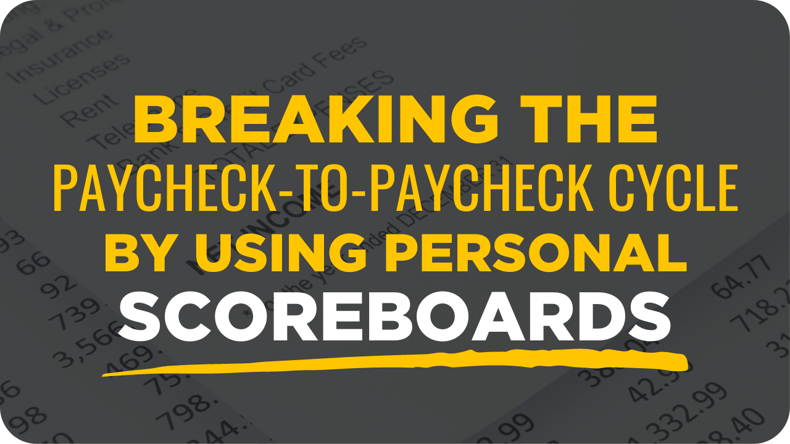 Scoreboards, proper goal tracking, and budgeting are all natural components we expect to see utilized in any business.  Afterall, how could we determine the success of a business without benchmarks and goal tracking? So if we determine the success of a business through financial scoreboards and goal tracking, then why don't we scoreboard our personal lives?
Well some of us do. Will Hamm has been using scoreboards to track his personal success for years. Will started playing The Great Game of Business five years ago at his company Menold Construction (now BluSky Restoration). Through playing The Game™ he learned how to forecast financial numbers while working towards a company goal. Now, Will uses The Game to work towards his own goals. He tracks so much of his personal life that he finds himself at the grocery store pondering how much he could save by cutting salt out of his diet for a year! Will has used personal scoreboards to track his finances to save enough money for things like vacations, exciting trips, and even the purchase of a home.
Before being exposed to The Great Game of Business(GGOB), Will's life looked very different. Will explains, "I was financially drained and was a frontline employee who was living paycheck to paycheck. After a year of learning the principles of the game, I began to take them home with me. In just 4 years my life changed to something I did not think was possible. The greatest reward I have received is the opportunity to pass my experience on to anyone who would like to have it."
In the video below, Will shares his experience of taking "the Game" from the office to the home. He discusses how the GGOB will work in your personal finances, health and more. He covers scoreboards and MiniGames (an engaging, short-term activity designed to pursue an opportunity or correct a weakness within a company) and creates a list of critical numbers that anyone can use in all their affairs.
Learning Objectives:
– What to forecast and track at home
– The journey of building a scoreboard and creating MiniGames™
– Defining big and small wins
– Creating A Stake in the Outcome®
*This video was recorded from a session presented at our Annual Conference. To Learn more about our Conference please visit: https://www.openbookconference.com
Want to find more tools and content similar to what was offered in Will Hamm's session? Join our online Community!

---
Other articles you might like: